Pastels Dominate the First Spring of a New Decade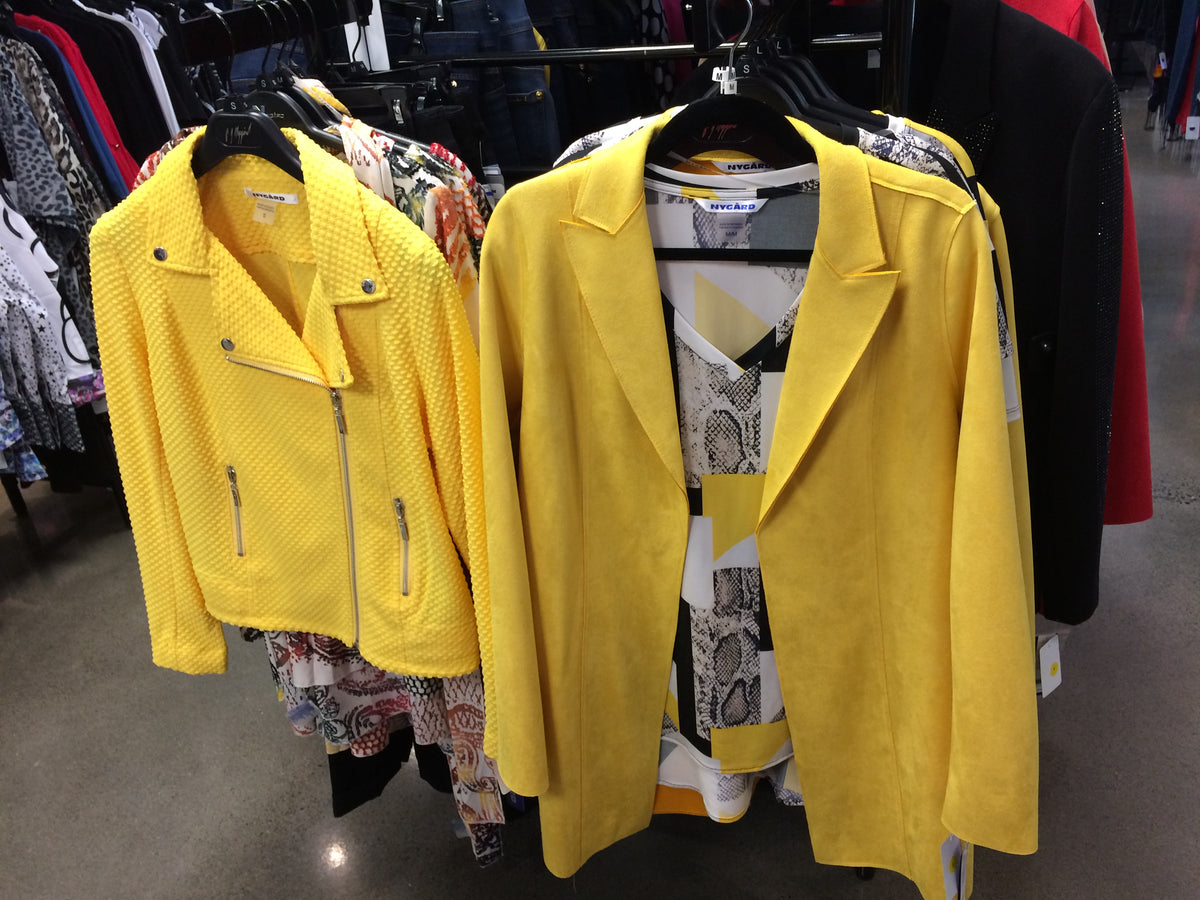 It was a chilly day when I stopped in at Close to You, but when I saw the pastel colors for this season, I immediately felt a wonderful sensation of warmth, sunshine and general well-being.

The yellow or citron color is making quite a fashion statement kicking off this spring. There are various shades ranging from lemon to mustard yellow.

The lemon-yellow jackets above made by Nygard will make you smile – spring is almost here... The black/white/yellow top underneath is very complimentary and blends well.

Frank Lyman is going for the bold look with this mustard yellow (gold) top and a perfectly matched gold/white/black 'throw-over', a new term for a cover-up.
Another Joseph Ribkoff masterpiece with this black/vanilla dress. Bringing the black strategically down the sides and slightly to the front of the dress will create an incredible slimming effect.
Just have a quick peek at this Nygard casual outfit. Nygard delivers super fashions at a great price point. The blue/beige top has a discreet animal print incorporated into a clever design. Notice the gold splash at the ankle of the jeans. Very neat!
This pink and black flowing skirt by Clara Sun Woo reminds me of Cherry Blossom Festival – just so spring-like! This company offers two generations of fashion knowledge led by a mother/daughter team. They promote a perfect fit, wrinkle-free and travel friendly.
FDJ is right on with everyone else, showing off their pastels in pink and turquoise. You can always get the right fit with French Dressing Jeans be it for jeans, jeggings pants or shorts. Their tops and t-shirts are very comfortable too.
The welcoming committee is still there to present the stronger colors of red, black, orange and darker pinks. Joseph Ribkoff (black pants) and Frank Lyman (red top) got together with this striking outfit on the mannequin.
It's that time of year when we experience cold nights and mornings, yet it can warm up nicely during the day. Oh, what to wear when you go out for the day?

These Dolcezza quilted vests have been a big hit. They are light weight and will keep you warm. Why not add a Dolcezza commissioned artist scarf to really top off your look?
I'm excited about these new Nikki Jones jackets. They are reversible – just amazing! Here's a sample of the two looks you will get. Keep in mind they're all a little different.
What can I say, there is so much to see when you walk into this store it will make your head spin, but I guarantee you will enjoy your shopping experience, have fun and gain all the fashion knowledge you may want.

Q. & A.

Q. I want to reach out to different colors, but there are some that just don't suit my hair or skin color. I feel trapped with the black, white and red in my closet. I like yellow, but it makes me look shallow.

A. If you like yellow, buy your favorite shade of yellow and try it out. It may just be a matter of getting used to something different. We are our own worst critics. Don't be so hard on yourself. Don't be afraid to experiment. Allow yourself to be bold and beautiful.

Reach out and color your world,
Regards,
Karla


Posted on February 24 2020