The Unbelievable UNBELTS and More...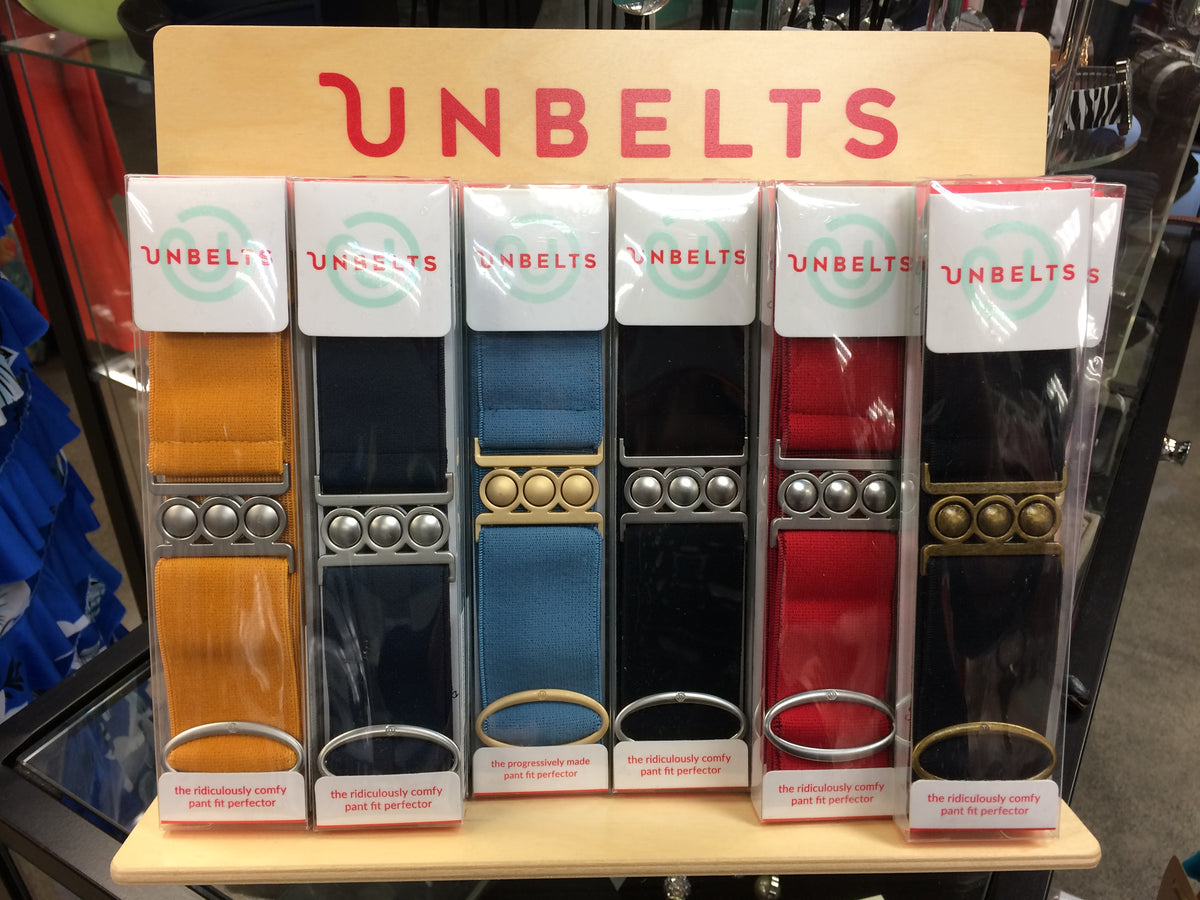 Major advancements are made in technology daily, however it's good to know there are still basic inventions enhancing our lives, especially when it comes to an easier way of putting fashions together. Unbelts is one of these extraordinary discoveries and a new shipment has just arrived!
Think of the impact the 'Zipper' has had on its ability to hold things together or the flexibility of Velcro, especially for sandals and shoes. The versatility of this belt is exceptional. You'll appreciate its resourcefulness - an absolute must-have in every wardrobe.
It fits sizes 0-24x by adjusting it as you would adjust a shoulder purse strap
The flat, attractive buckle is made of zinc alloy and will fit any belt loop
This belt can be worn over a loose garment for attractive gathering
It is totally washable if left in your pants - just wash cold, hang to dry
It comes in a multitude of colors to flatter your wardrobe
If you want something totally adaptable, flexible and fashionable, UNBELTS is for you.
***
On a separate note, we talked our managers into modelling some collections for you to see!
Donna, our Store Manager is modelling one of the new 'Papa' dresses, reaching new heights for this designer. Papa has always been known for terrific cover-ups, summer mesh sweaters, bright tops and comfy pants. If you are looking for light-weight leggings, capris or even shorts which come in black or white, have a look at this collection. 
Here is Debbie, our Office Manager, with one of her favorite 'Clara Sun Woo' tops. Rust, orange, beige and light browns are hot fashion colors this summer.
Ana, our Assistant Manager is showing us a 'Neon Buddha' outfit in pure white. If you like natural fibres for the summer, Neon Buddha has a good selection of 100% cotton. An all-white outfit is really in this season.
And for brands to look for by fabric:
Natural fibre tips:
For Linen, look for the 'Brynn Walker' brand
For Bamboo, check out the 'Gilmore' label
For more cottons look for 'Tommy Bahama', 'Easy Wear' and 'Oh My Gauze'
There is also some Silk and Tencel available
Tencel is produced from the pulp of the Eucalyptus tree. This material is soft, breathable and naturally wrinkle-resistant. It's the brand name for the generic Lyocell fabric.
Yours in staying cool for a warm summer,
Karla