Body Shape Tips & Tricks - The Apple or Round Shape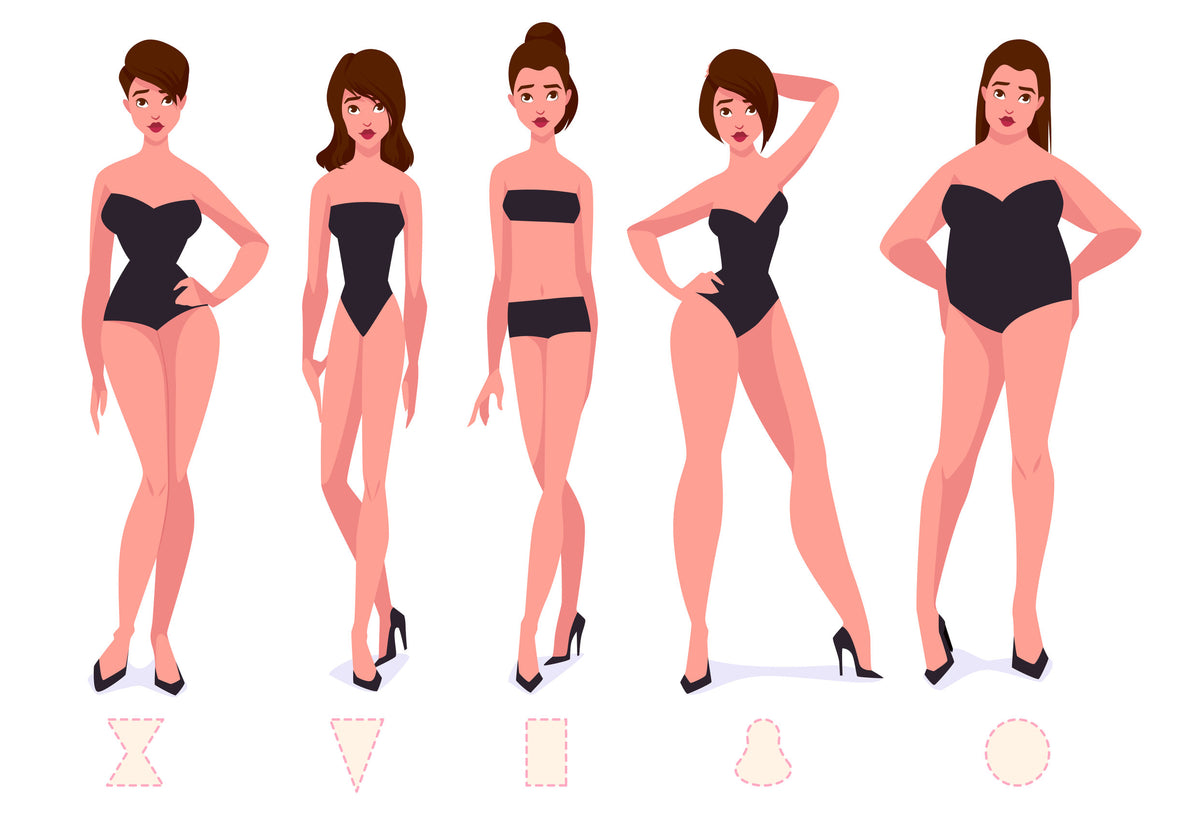 It's time for our first installment about how to dress for your shape!
But first off, thank you to all 193 of you who participated in our poll! Here are the results:
Round or apple shape - 38.9% (75)
Triangle or pear shape - 27.5% (53)
Hourglass - 16.1% (31)
Rectangle - 11.9% (23)
Inverted triangle - 5.7% (11)
That was very helpful to see and means we're going to start off with the apple (round) shape. I was going to do both the pear and apple, but this got rather long with just the apple, so we'll leave the pear until the next one.
We did, however, talk about the apple, pear, and hourglass in our Wine and Women on Wednesdays here (and showcased yet more new arrivals 😲), so do check that out for more tips on the other shapes. Kerry and I are pears, Audrey is an apple, and Donna is an hourglass (though we called her a half-hour glass since she's so tiny, haha), so we modeled and gave tips on all but the inverted triangle.
Just as a brief refresher, we used the standard set of five different body shapes as above for our poll, but of course, many of us don't fall into such simple categories. If you plug your measurements into some of the calculators you can find online, you may even come up as essentially a "special snowflake". lol
Regardless though, all of us can roughly align with one of these shapes, and dressing for your shape does help play up your best features and downplay those you don't like drawing attention to. Or at the very least, you can use the tips to address certain features you have even if the whole shape doesn't work for you.
That said - you all know I'm a firm believer in wearing whatever the heck you like and being proud of the body you're in, so by no means take this to mean I'm saying you can't wear a certain style if it "technically" isn't flattering for your shape.
Now that we've gotten that out of the way, let's get started!
General Tips for Dressing Your Shape
You want to create balance. No matter your shape, you want to balance your shoulders, bust, waist, and hips evenly.
Use fabrics and styles that emphasize the parts of your body you like and draw the eye away from those you're not so fond of.
Keep in mind color and patterns as to where our eyes are naturally drawn to. Bright colors and patterns draw our attention more so than black and navy.
And now onto the specifics!
What is the Apple or Round Shape?
To start with, let's be sure that this is your shape. Typically, this shape means:
You're curvy with a less defined waist
Your weight tends to go to your stomach area
You have an average to large bust size
A lot of us don't start off with this shape either, but it can often happen when we hit perimenopause age. Sigh... the pros and cons of age, but such is life, right? We need to embrace what we've got and the journey we took to get here, wrinkles and a few extra curves included!
Tips & Tricks for Dressing the Apple or Round Shape
In the case of the apple shape, you want to either de-emphasize the midsection area by skimming over it or by creating the illusion that your waist is more defined. You can also draw attention to areas like your shoulders, bust, neckline, or legs.
The Specifics -
Tops & Jackets:
First off, wear a 

good-fitting bra

 so you can emphasize your fabulous bust - you most definitely don't want your bust to meet your midsection with a stretched-out bra!

Emphasize your neckline by wearing V-necks, chunky necklaces, or

 

scarves.
Look for tops that highlight your slimmest area (often below the bustline) like a peplum, as the peplum has a built-in waist which then flows out in a flattering way over the midsection.
Try loose-fitting

 

tunic tops

 

that fall just below your hip bone. A V-neck or fun necklace or scarf will further draw attention upwards while the tunic skims the midsection.

 

If your tunic top isn't quite long enough, throw on a mini skirt over the leggings to add length to your top.

Avoid clingy, thin-material tops that show everything. Instead, opt for slightly thicker fabrics that skim or drape over your body.
Tops with patterns tend to help camouflage extra curves, and asymmetrical hemlines or detailing can also create a slimming effect.
Open-front long

 

jackets, long vests,

 

dusters, and single-breasted style all add vertical lines that lengthen the midsection. Wear with a V-neck tunic or accessory to break it up at the neckline.
If you want to create the look of a more defined waist, try wearing a belt at the slimmest part of your midsection or tuck your shirt in on one side.
Another way to create a curvier look is to wear a top with ruching. These work beautifully to camouflage any extra curves while also giving the impression of a narrower waist.
Bottoms:
Show off your legs! Often apple-shaped women have great legs, so if you'd prefer to draw the attention downwards, wear a tunic top with leggings or slim-fit pants and strut your stuff!
Patterned leggings or slim-fit pants paired with a tunic work great to draw attention downward.

 

Up! Pants

 

are great slim-fit pants with tummy control and fun patterns.
High-waisted, loose-fitting pants create a beautiful long look and draw attention downwards. Those with belts can also create a slimming effect at your waistline and create balance.
Choose pants and skirts with zippers on the side to not add bulk to your front.
Sympli

 

makes great pull-on pants that are flattering to the apple shape and are available in both legging or loose-fit styles.
A straight-leg or bootcut pant or jean is a good choice for the apple shape as they help to create a longer-looking leg.
Dresses:
Choose dresses that have their waistline around your thinnest point, like under your bustline. These flatter your bust and de-emphasizes your midsection.
Another option are dresses with ruching, draping, or layers. These can slim your waist and/or create a longer silhouette.
One with a belt that sits at the narrowest part of your waist would work well too.
Accessories & Footwear:
Have fun with these! As mentioned, chunky necklaces and scarves are a great way to draw attention upwards. Earrings too!
A wedge heel is a great way to elongate your legs.
Show off those legs again with a colorful or strappy sandal!
How about a fun and comfy fashion sneaker? These are all the rage these days and come in a huge array of colors.
If color isn't your thing, match your shoes or sandals to your pant (or go with nude) to create the illusion of a longer leg.
Things to Avoid:
Puffy jackets and sweaters
High necklines - generally speaking, V-necks are more flattering to the apple shape.
Tight, clingy T-shirts.
I hope that helped! All that being said, as I already mentioned, these are just guidelines, and really, truly, wear whatever you love and makes you feel good. At the end of the day, loving yourself and each other is all that matters.
Sandy ❤️
P.S. If you're more a pear or triangle shape, here are my best tips to dress for your shape!