Body Shape Tips & Tricks - The Pear or Triangle Shape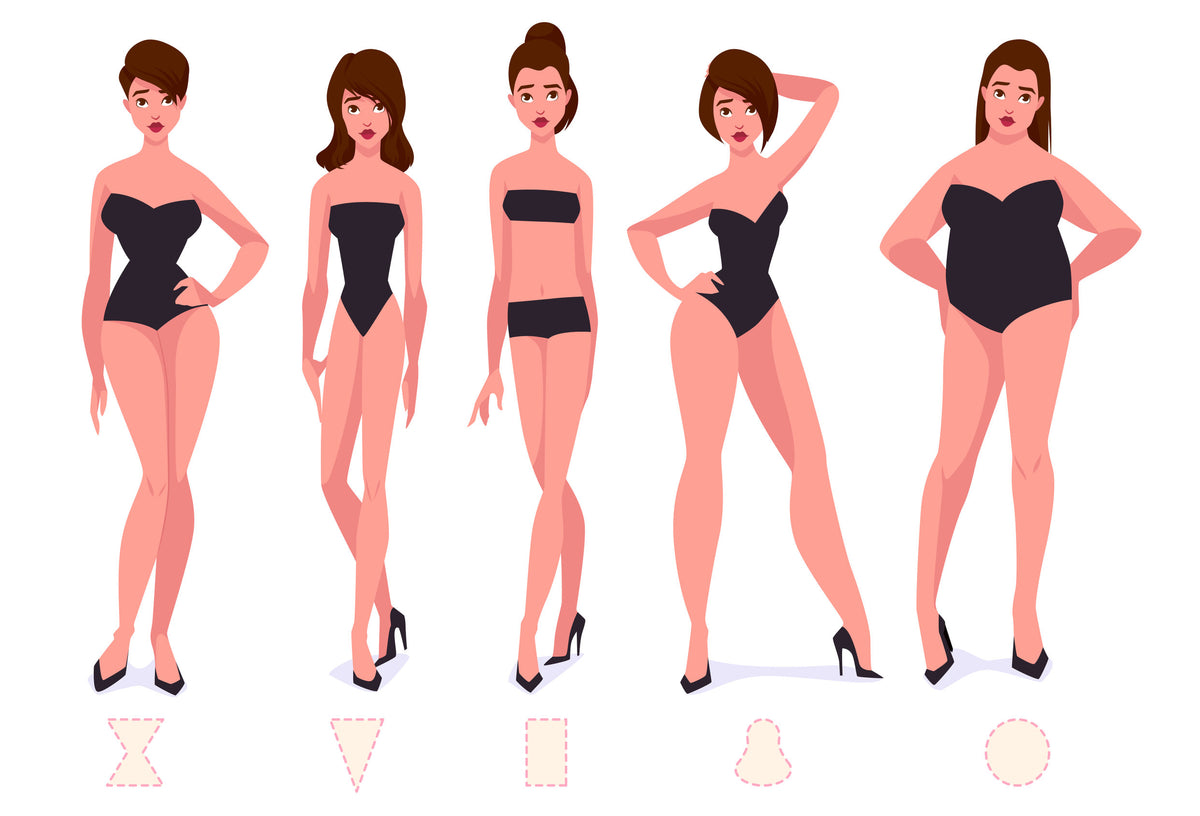 We're back with our body shape tips and tricks!
This time we're going to talk about the pear or triangle shape. This shape is more narrow on top with a fuller bottom half, specifically the hips, bottom, and thighs. This is what both Kerry and I identify with. 
It should be noted though that you may very well (and more likely than not) fall into more than one category. Most of our bodies don't fall into these exact descriptions, and you may fit many of the features of one shape but not all. In this case, think of having a primary and secondary shape, and take whatever suggestions work for your body and the kind of clothes you like to wear.
Also, even if some particular recommendation, in theory, suits your body type, it may just not be your style. In that case, go with your gut and wear what's "you".
Maybe you don't like straight lines with a lot of structure, but instead like more of a flowy look. Wear the flowy look! Wearing what suits your personal style will always look best no matter what any "shape" recommendations say. 
As I always say, wear whatever you want and love the body you're in! 
Okay, enough of the "you do you" rant, lol, and onto the tips.😊
First off are general tips and tricks. We already talked about these last time, but I'm including them again for a refresher in case you missed the last newsletter.
General Tips for Dressing Your Shape
You want to create balance. No matter your shape, you want to balance your shoulders, bust, waist, and hips evenly.

Use fabrics and styles that emphasize the parts of your body you like and draw the eye away from those you're not so fond of.

Keep in mind color and patterns as to where our eyes are naturally drawn to. Bright colors and patterns draw our attention more so than black and navy.
And now onto the specifics!
What is the Pear or Triangle Shape?
You'd consider yourself a pear shape if, 
Your hips are wider than your shoulders and your bust

You tend to have slim arms and narrow shoulders

Your weight tends to go in your hips, thighs, and sometimes behind 

You tend to have an elongated waist

Your legs may be shorter in comparison to the rest of your body

You have a small, more defined waist
Tips & Tricks for Dressing the Pear or Triangle Shape
As mentioned earlier, the goal with dressing "for your shape" is to draw attention to the features you like while de-emphasizing those areas that aren't your favourites.
When it comes to dressing the pear shape, the goal is to downplay your hips and maybe upper thigh area, while emphasizing your slimmer upper body and smaller waist. That said, if you love your full hips and derriere, show them off! 
The Specifics -
Tops & Jackets:
The idea for the pear shape is to create the look of your shoulders being wider than they are. Emphasize width by choosing necklines that are lower and wider, like a boat neck, off the shoulder, square, or cowl neck.

Avoid necklines that are high and narrow as they will have the opposite effect of what you want, that of creating the visual of lengthening and narrowing your upper body. This will, in turn, make your wider hip area seem even wider.

The most flattering sleeve style depends on the length of the sleeve. For short sleeves, go with wide, embellished styles like bell, cap, or batwing sleeves, again to draw attention upwards and create width in the shoulder area. If it's a long-sleeved shirt, you want to do the opposite and keep the sleeves by the wrist area more narrow and tapered as you don't want to add volume to the hip area. A sleeve that is fuller around the shoulders and then tapers by the wrist is perfect for a pear shape. 

Opt for fitted tops that emphasize your small waist like wrap style tops

Tops with embellishments, bright colors, or bold patterns around your shoulders and bustline work well to draw attention upward. Horizontal stripes work well on pear shapes as well. 

Tops with a tie waist are great too.

A long cardigan works great at minimizing the hips.

Avoid tops with embellishments and extra detailing or volume at the hip area, like ruffles, peplums, and bulky pockets. 

The ideal top length should either be a shorter length that emphasizes your small waist or alternatively falls past your hips in a relaxed fit.

For sweaters, choose shorter styles in a chunky knit to add volume to your upper body, or long, loose, and flowy knits that fall around the mid-thigh. 

Avoid any top, sweater, or jacket that lands at your widest part of the hip/thigh area. 

For jackets, choose those that add volume and/or detailing to the bust and shoulder area, like short, cropped jackets with pockets at the bust. A short jacket also shows off a smaller waistline. Bright colors work well with short jackets as well. And if you don't mind shoulder pads, you're the shape that they were meant for!

A longer top works great under a short jacket.

If you don't like short jackets, long, flowy jackets in dark colors that fall to the mid-thigh create an elongated look. Again, avoid extra detailing or volume around the hip area. If you want pockets, choose styles that have flat pockets without extra detailing or volume at the hip. 

High-waisted coats with belts in an A-line style work great on pears, as do trench coats. 
 Bottoms:
As is the theme, the goal here is to slim the lower body and minimize the hips.

Opt for a mid or high-waist rise with a relaxed fit that falls straight down from the widest part of the hip.

Belted high-waisted pants that flow loosely across your hips and thighs work well for pear shapes. These show off a small waist while the fabric skims past the hip and thigh area.

Choose straight cut, bootcut, trouser-cut, or flare. 

Avoid pants or jeans that taper at the ankle and skinny jeans/pants - unless worn with a top, cardigan, or jacket that falls below the widest part of the hip or thigh area (wherever is your widest). 

Choose pants with flat fronts, minimal pockets, and no extra details or stitching in the hip and thigh area. Avoid distressed denim as it generally emphasizes the upper thigh area while making your upper body seem smaller. 

Choose dark colors and clean lines. Simple is best. 

Skirts are great choices for pears, particularly A-line styles because they have more volume on the bottom so balance out the hips.

Opt for skirts that have a minimal amount of gathering, but instead, drape the hips and thigh area without adding volume.

Avoid tight-fitting skirts. 

An optimal skirt length for the pear shape is knee-length or between the knee and mid-calf. 

Like pants, a mid to high rise is best in skirts to emphasize your smaller waist. Also as with pants, avoid any embellishments or extra detailing around the hip area. 

Ideal short styles for the pear shape are simple, tailored, and high-waisted.

Shorts that are knee length or go past the thickest part of the thighs with a wider leg opening are the most flattering.

As with pants and skirts, avoid extra volume around the hip area with bulky pockets or embellishments, and only use a belt if they are high-wasted.

Darker colors are the best bet in shorts for the pear shape.

Avoid tight-fitting shorts as they emphasize the hips and thighs.
 Dresses:
Dresses are fabulous choices for the pear shape as you can easily minimize your hips and thighs.

Best dress shapes for pairs are A-line, wrap, tulip, empire waist, and X-line.

Surprisingly, dresses that have a wider bottom like A-line or X-line dresses do a great job of concealing wider hips and emphasizing the waistline. The X-line style, in particular, creates a beautifully balanced shape in that it widens the upper body as well.

Like in tops, dresses with wide necklines like a boat neck or off the shoulder, are the most flattering.

Avoid straight, boxy cuts or a drop waistline. Sorry, the flapper style is not your most flattering look.😉 

Avoid heavy, thick fabric.
Accessories & Footwear:
Accessorizing with scarves and chunky necklaces are fabulous ways to draw attention to the upper body.

Midsize to chunky heels help elongate the legs while balancing your hips. 

Avoid footwear with straps around the ankles as they can shorten the look of the leg.

Avoid "delicate" footwear like kitten heels. 
General Tips for the Pear Shape: 
Minimize the hips/thigh area to help balance the more narrow shoulders.

Choose tops with wider necklines to balance the shoulders with the hips. 

Use accessories like scarves and chunky necklaces to draw attention to your upper body.

Belted, high-waisted bootcut pants are a great choice. 

For coats, choose high-waisted belted jackets. 

A-line or X-line dresses look amazing on pear shapes by emphasizing a small waist and skimming over the hips and thighs.

Choose chunkier heeled footwear rather than more delicate styles. 
Things to Avoid:
Narrow/high neckline tops that minimize the shoulders. 

Skinny, tight pants and skirts (unless paired with a tunic-style top or cardigan/jacket). 

Pants or skirts with volume and/or a lot of detailing around the hip and thigh area. 

"Delicate" footwear like kitten heels, and heels with straps at the ankle. 
And we're done! Phew, that's quite a list! I hope it helped, but again, these are just guidelines and what's most important is to wear whatever it is that makes you feel good. 
That's my goal in all this (and ours at the store) - to help you feel your best. And besides that, fashion is meant to be fun! Be kind to yourself and just have fun with it! 
Sandy ❤️
P.S. If you're more an apple or round shape, here are my best tips to dress for your shape!