Body Shape Tips & Tricks - The Hourglass Shape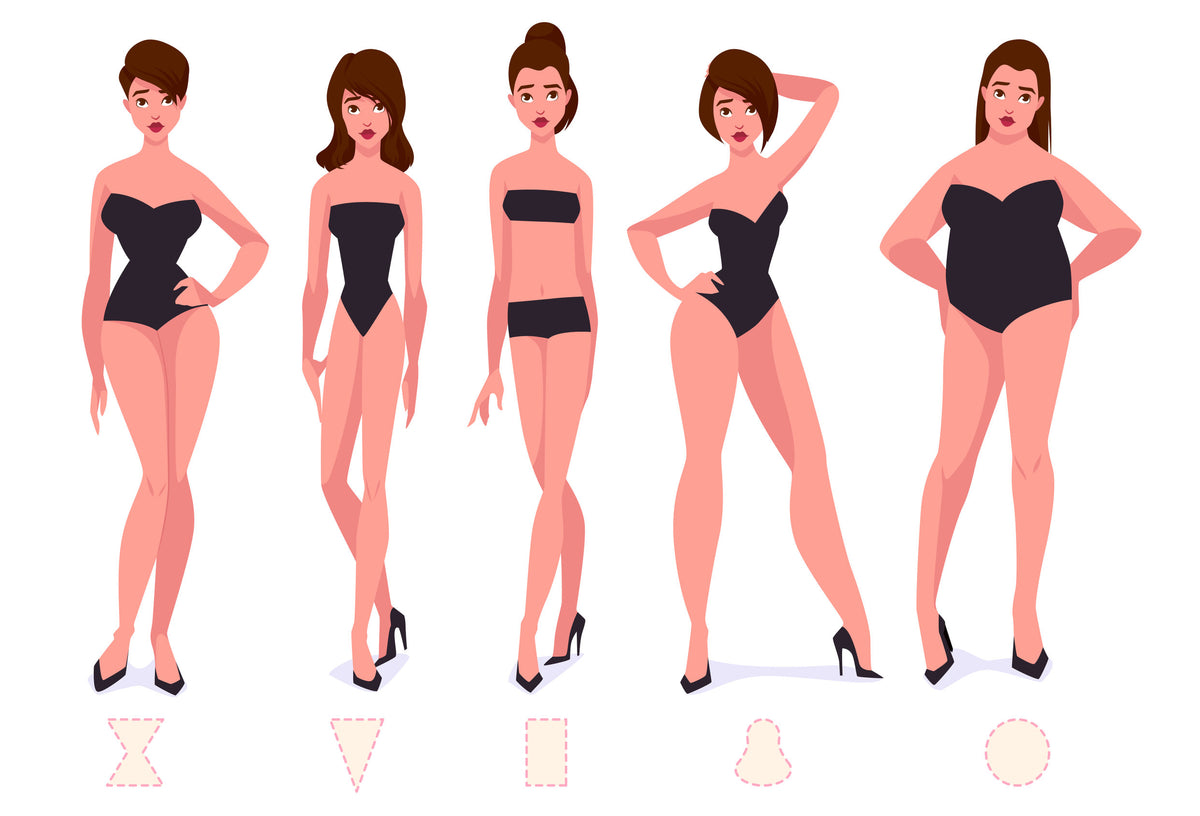 Here we are again with body shape tips and tricks #3! This time we're going to talk about the hourglass shape.
If this is you, you're pretty well balanced with your shoulders and hips being roughly the same size, along with having a smaller waist. Lucky you! Though I'll reiterate yet again to love and appreciate whatever body shape you have! We all come in different shapes and sizes, all of which need to be celebrated! ❤️️
Contrary to popular belief though, and something I didn't realize until doing this newsletter, depending on how you measure your shape, you don't necessarily have to have a larger bust to be an hourglass - some consider it to be more about the width of your shoulders matching the width of your hips, along with having a small waist, rather than also having a fuller chest. 
Either way though, even with the hourglass shape's natural balance,  ones with this shape can't just throw on anything. They need to be mindful to not add too much bulk to the top or bottom half, but I'm jumping ahead of myself...! 
First off, let's have a reminder about the general tips and tricks of dressing for your shape.
General Tips for Dressing Your Shape
You want to create balance. No matter your shape, you want to create balance with your shoulders, bust, waist, and hips. 

Use fabrics and styles that emphasize the parts of your body you like and draw the eye away from those you're not so fond of.

Keep in mind color and patterns as to where our eyes are naturally drawn to. Bright colors and patterns draw our attention more so than black and navy.
And now, as before, onto the specifics!
What is the Hourglass Shape?
You'd consider yourself an hourglass shape if, 
Your shoulders and hips are roughly the same width and tend to be on the fuller side, and you may have a fuller bust. 

You have a small, defined waist (however, if you put on some weight around your middle, your hourglass shape may take on characteristics of the apple or round shape). 
Tips & Tricks for Dressing the Hourglass Shape
If you've been with us since starting this series, you're well aware that the goal with dressing for your shape is to draw attention to the areas of your body you like while de-emphasizing those areas that aren't your favourites.
When it comes to dressing the hourglass shape, you don't need to downplay your top or bottom half, but instead you want to keep that balance while emphasizing your smaller waist. 
The Specifics -
Tops & Jackets:
As will be a recurring theme for the hourglass shape, you want to emphasize your small waist so look for fitted tops with open necklines (i.e. scoop or V-neck).  
You'll want to avoid bulk or added embellishments to your shoulder, bust, and hip areas. 
To emphasize your waist, a peplum top, wrap style, or belted top work beautifully.
For a button-down blouse, again choose a fitted style that shows your waist.
A scoop or V-neck works well for the hourglass as it draws attention to your collarbone/neck area. Square and halter neckline styles also look beautiful. 
Keep your top length either just below your hip bone, or go with a tunic style that goes to the mid-thigh. Tunic styles are not your best choice, however, unless you belt them. Avoid tops where the hem ends at your widest area across your hips/thighs.
For sleeves, you can wear any length but in three-quarter or long sleeves, a more fitted sleeve prevents adding width to your upper body. For short sleeves, rounded cap sleeves are flattering for the hourglass. 
Avoid wide sleeves like bell or flutter sleeves as they add bulk to your top half, and can also visually distract from your waist, which you don't want to do. 
For jackets, fitted jackets, tailored at the waist, or ones with belts work well. 
Short, bomber-style jackets also look great on the hourglass shape. 
Trench coats with their structured, tailored look with a belt are also perfect for you. 
A blazer in a peplum cut where it is fitted at the waist with a flare at the hip can work great, but be careful of how much it flares at the waist. You'll want to avoid extra pleating, ruffles, or bulk. 
An A-line or swing jacket is great as long as it's more fitted at the bust/waist. 
As with tops, avoid extra embellishments or extra bulk around your shoulder, bust, and hip areas. 
For both tops and jackets, avoid boxy, straight cuts as these will hide your small waist and make you look larger than you are.
You can also try belting a top or cardigan that's not already fitted at the waist. Alternatively, don't be afraid to tuck in a sweater at the front, paired with a nice belt. 
Bottoms:
Best jean styles: Slim fit with high rise, skinny, wide leg (fitted through hips), flared, boot-cut, straight (hem to floor). 

Best pant styles: Straight leg, slim fit, cropped with slight flare, wide leg, belted waist

As above, the hourglass can wear a variety of bottoms, the most flattering, however, is often a bootcut or slightly flared style with a high rise. 

In jeans, opt for stretch denim for a fit that better accommodates your curves.

For both jeans and pants, opt for a higher rise as a lower rise puts emphasis on the hips with the waistband being at the wider area. Also, often hourglass shapes need a higher rise due to their curves filling out their jeans and pants more so than less curvy shapes. 

Avoid whiskering or distressing of jeans in the hip area.

As much as we all love our pockets, it's best to avoid them on pants. Also avoid pleats, darts, or extra fabric around the hips.

Finding a comfortable and flattering fit in shorts is often difficult for the hourglass shape but these are some styles to try: A looser fit or flare with a defined waist (avoid pleats though) or conversely a stretchy, fitted short like bike shorts, or a slim fit Bermuda  short.  
Dresses & Skirts:
As with everything, you want to emphasize your small waist so dresses and skirts that do this work beautifully for your shape. Avoid any dress or skirt that doesn't show off your waist as if it's more a straight or boxy cut, it will just make you look larger than you are. 
Wrap dresses are absolutely perfect for the hourglass figure. 
Pencil skirts work beautifully for the hourglass as, though a straight cut, they follow and flatter the curves and show off a small waist. 
Fit and flare styles (think the 50s) look amazing on the hourglass shape.
Sheath dresses also work as long as they are fitted. 
Of course, the hourglass shape looks amazing in stretchy dresses. 
Right above or at the knee-length dresses and skirts work well.
Avoid hitting the mid-calf, so if you want a midi length, go either slightly above or slightly below the mid-calf.
A-line skirts with a high rise are perfect and very comfortable to wear! 
Avoid boxy and stiff fabric. The hourglass shape is one of curves and flow, so choose fabrics and styles that flatter and allow for the S shape. 
Accessories & Footwear:
As just mentioned, you want to complement your curves, so choose accessories and footwear that match this aspect of you. For example, go for a round toe or ballet flats. 
Footwear is often dependent on height. If you're a taller hourglass, a sandal with an ankle strap would look great to show off your likely shapely ankles. However, if you're on the shorter side, an ankle strap tends to shorten your leg so should be avoided. 
Often those with the hourglass shape have shorter legs, so heels and wedges always work well to help length the leg.
Belts are perfect for accentuating your waist so make use of them! As mentioned earlier, try them over anything that is otherwise straight or boxy to create a whole new flattering look. Be careful with the width of your belt - this will depend on how short- or long-waisted you are. 
As for scarves and necklaces, this will depend on how "busty" you are. If you're well endowed, you don't want to add too much to your bust area. Otherwise, you can add a scarf or necklace, but just keep in mind the balance you're always striving for with your hips and not wanting to create a top-heavy look. 
Statement earrings are a great choice to accessorize with as they draw attention upwards and don't add bulk to your shoulder/bust area.
For handbags, as much as I love them, for completing an outfit, avoid crossbody bags because of how they cut you off across the diagonal line. Otherwise, when picking a handbag, consider the strap length and opt for a length that, if you're carrying on your shoulder, sits at approximately waist length to draw attention to your waist and not add width to your bust or hips. Handbags you hold via a handle will naturally fall by your legs, past your hips, so those also work well. 
General Tips for the Hourglass Shape: 
Emphasize your waist. When in doubt, tuck it in or belt it. 😉
Keep your shoulders and hips balanced without adding bulk to either. 
Wrap dresses and tops should be a staple in your wardrobe. 
Belts are your friend. 
Above all else, embrace your curves! ❤️
Things to Avoid:
Boxy shapes that hide your shape. 
Heavy, stiff fabric. 
Extra fabric, embellishments, ruffles, etc, at shoulder/bust and hip area. 
I think that's it! However, I must say that in my research for this newsletter, I came across countless other tips, but this has already gotten long enough. 
I will mention though that I came across another fabulous resource that goes even further into body shapes which is great if you don't quite fit any of the shapes in the top picture. As an example, it breaks down the hourglass even further, into an 8 shape or an X shape, and what works for one doesn't necessarily work for the other. Take a look here if you're interested in more details. 
I also should mention that in this Wine & Women on Wednesdays we had a great time showing some dressier outfits, as well as talked a bit about the hourglass shape. As I always say, we can dress you from head to toe for pretty much any occasion. Take a look and see the beautiful outfits the ladies modeled. 🤩
 Sandy ❤️