VARIETY is the Spice of Life!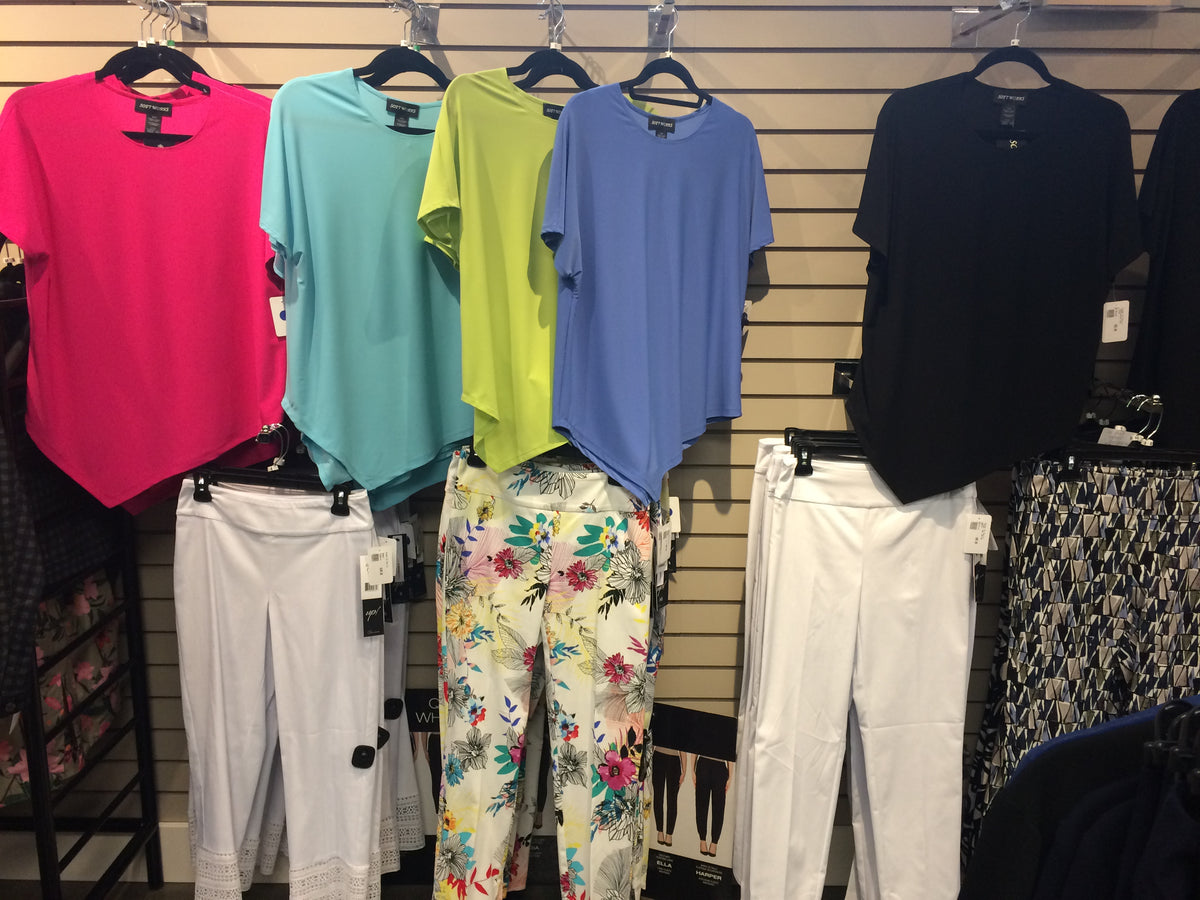 Variety in our wardrobe will give us a daily new outlook as we venture into summer after months of staying home. We will become busier than ever, anxious to get out of the house while we continue to maintain our social distancing. It will be a summer of Staycations – Destination BC.

Think of it this way – ample variety in our wardrobe will give us a brand new 'go to' or 'anything goes'. Take a closer look at these 'Soft Works' tops in cheerful colors of Candy, Aqua, Lime and Blue. We all have basic black and white pants and capris; just pick your favourite colors, get two or three tops and you'll be good to go. Check out the price, it will surprise you! Sandy has always gone to great lengths to create a diversified price point throughout the store to meet all budgets.

Notice the peak at the bottom. You can leave it loose to keep you cool, tie it at the waist level or tuck it in for a different look.

A perfect pairing with these tops would be the 'Up! Pants'. which just arrived from Montreal. The floral prints and mother-nature inspired designs are a joy to see and wear. The colors between 'Soft Works' and 'Up! Pants' blend beautifully.
If you have more of a conservative nature, the black or white have a classy look, and some white pants have beautiful wide-lace near the bottom. The 'Thincredible! Fit' is ultimate slimming technology for tummy control.
Another popular designer for summer is 'Tommy Bahama'. Did you know that Tommy Bahama is a fictitous man? Three entrepreneurs came up with this name when they started the company in 1993. Their slogan was "This company is a purveyor of island lifestyles and maker of luxury lifestyle clothing and accessories." Tommy Bahama was sold to Oxford Industries, Inc. about 10 years ago, with all products made in the USA. Oxford changed the slogan to "Tommy Bahama isn't a luxury brand and believes that living well is within everyone's budget."

I can speak from experience when I say, "once you have owned a Tommy Bahama piece of clothing, you will become an instant fan and repeat customer." Their quality and design in casual wear is above reproach – totally classy!

The Tommy Bahama Cabana Stripe is an example of what's new this year. The relaxed fit shirt can be worn alone or over a summer 'T'. The loose, wide legged high-waisted pant with a rope belt looks great with their Ella Twill jacket. These jean-style jackets are 'oh-so-soft' and comfy.
You may have been looking for the perfect tote that will go with everything. 'Joseph Ribkoff' has come up with this beautiful 2-piece bag. It has a zipper pocket on the outside and a large (removeable) insert in the bag to hold all those little things you can never find in a tote bag. Great design!
Finish off your outfit with some amazing 'Vionic' sandals in a color of your choice. The most comfortable sandals you'll ever own, designed with Orthaheel technology.

Be sure to keep checking for Sandy's (almost daily) virtual fashion shows on Facebook. Sandy will describe what she is wearing and show you many new arrivals in the store. This is a great opportunity to keep up with the latest fashion trends for the season and I guarantee you, it will cheer you up.

Q. & A.

Q. A customer came into the store looking for jeans. She spotted a multi-floral 'Up! Pant that she absolutely loved. She confided in me that she was 82 years old and said "I love these pants but they are for younger girls, not 'age appropriate', but I have so many plain T-shirts in every color, and they would all go with these pants."

A. I told her that age is just a number and she should buy clothes that she really loves. She bought the pants. I saw the customer come in at least three more times, and each time she was wearing her Up pants (with a different color T-shirt). She came over to me to say, "remember me? These are the best pants I've ever owned, they're like a second skin and move with me. Besides, they hold me in, in places I want to be held in. My husband said he has a younger wife again." She bought another pair of Up pants with different colors.