PATTERNS Will Cheer You Up!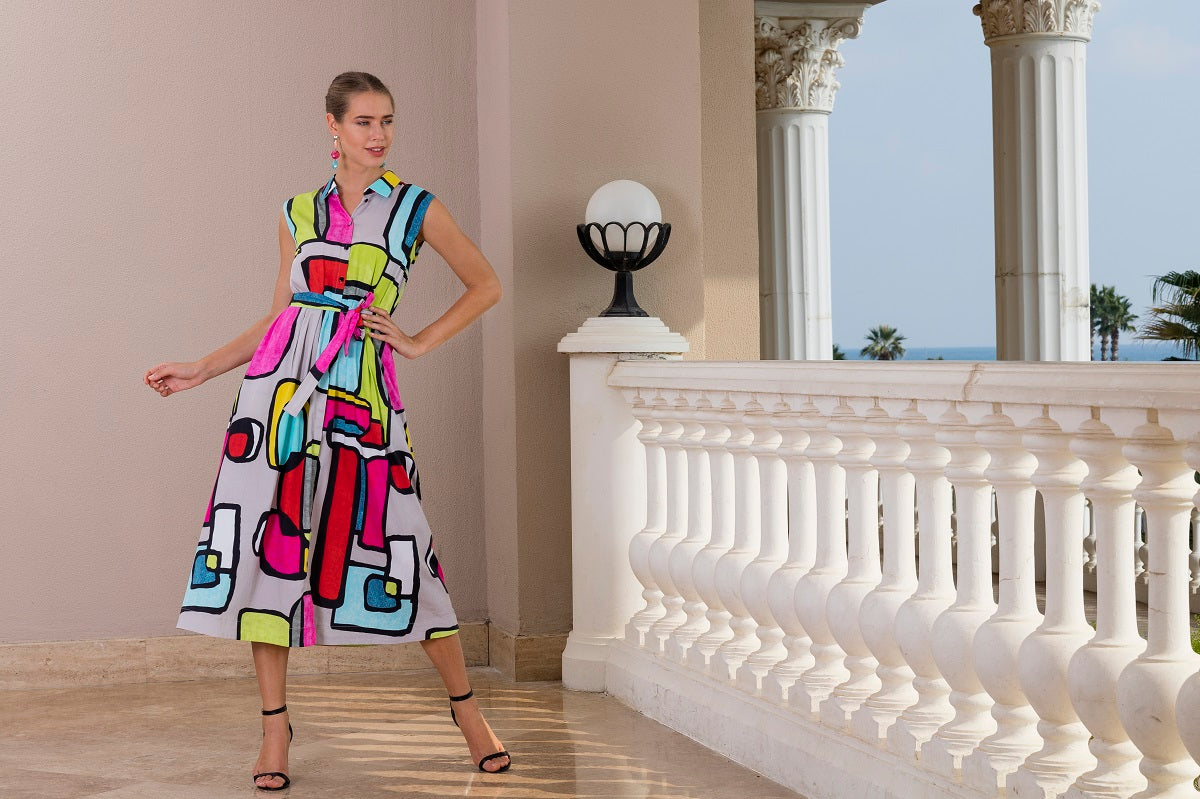 The good news in spring fashions is that patterned tops, pants, dusters and dresses are in like never before, just in time for raising our spirits to feel alive again. The new vivid colors are like a ray of sunshine, guaranteed to make us smile.

We've all had our moments during the COVID-19 pandemic. Most of us have coped reasonably well but our lives have not been normal lately. We need a few things to cheer us up a little.

The best news I've heard lately is that Close to You is reopening soon! Starting Tuesday, May 19th - after the May long weekend (closed this Monday, May 18th) - hours will be Monday to Saturday from 10 to 5, closed on Sundays. How exciting is that? Sandy has made sure that all safety guidelines for our staff and you, our valued customer, are followed. Time to get out of the house and look for something cheerful to add to your wardrobe.
The 'Compliment' brand is ringing true to their name in multi-colored tops for spring and summer. The 'FDJ' tops are bursting with imagination, also well-deserved of every compliment you'll get.
Put a 'Dolcezza' top with a white 'Focus' capri pant and you'll look in the mirror and just say "Wow" – Very striking!
Now, there is nothing more versatile than a good quality jean skirt for the summer when jeans seem just a little too warm to wear. If you like denim, choose the masters for fit. 'FDJ' has a jean for every figure and their jean skirts are just the perfect length for everyone. Try topping it with a 'Softworks' T-shirt for extreme comfort.
Do your own thing with mixing and matching. Don't be afraid to go crazy this summer, you can blame it on COVID-19! Check out this mannequin wearing flattering slim ankle length jeans, with a basic blue top, accented with a long necklace and the most beautiful duster with the perfect colors complimenting the entire outfit. It's the easy casual look!


Let's not forget about getting the perfect sandals for jean wear (or any wear). These soft, comfy 'Portofino' sandals with a wedge heel would be my choice to wear with either a skirt, capris or ankle-length pants. Wedge heels are perfect for walking because they not only give you a little height, but also distribute your weight evenly along the bottom of your feet. Having your heel raised a little will automatically give you back support which is better for your posture.


A lot of gals like the flip/flop toe grips on their sandals, so here is a pair of 'Mephisto' that will give you the stylish toe grips, plus perfectly placed straps to help keep them on your feet. You'll also get the added bonus of their soft-air technology built into the contoured soles for long walks.



Q. & A.

Q. I like to keep up with the latest trends in fashion but have always been a very conservative dresser, leaning more towards solid colors. Some patterns just look too busy for my taste. Can you suggest a way that I could ease into this fashion craze slowly, so I don't date myself?

A. We do carry tops with not quite so much activity in the pattern and you will see others that carry the artistic designs further down the bottom of the garment or in the sleeve design. This way you will be able to ease into the new trend gently. Another thought would be to buy a patterned pant, wearing it with a plain top, but embellish it with a beautiful Zsiska necklace. A new look always makes a woman feel good, so give yourself this opportunity.

Let's have some fun with fashion,
Karla