A World of Sandals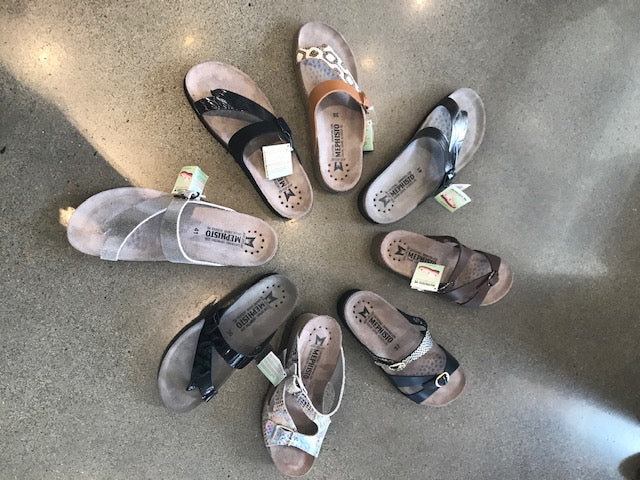 Sandy opened her new store on Corfield Street because she wanted a store large enough to accommodate a comprehensive shoe department. She was looking forward to stocking this new department with the best shoes, boots and sandals made in the world today and her goals have been realized, combining high fashion and comfort.

Our store needs to stay closed a little longer due to the COVID-19 crisis so that our staff and customers will stay safe, but we can certainly show you some pictures of the wonderful spring stock of sandals waiting for you.

OK, I'll admit it – I have a real passion for shoes. When I first discovered Close to You, I thought I had found 'shoe-heaven'. There were many brands I was unfamiliar with. Not the same old, you'd find in most shopping centres. I found the most beautiful shoes and sandals I had ever seen, also giving me the comfort, I was looking for.

I'd like to tell you a little about the history of these successful companies and what makes them so special. Many of these brands are made in Europe, giving us the European flair for fashion, yet the comfort level we all want.
'Fly London' footwear was created in the UK in 1994, with their head office and production in Portugal. Their design philosophy has been to create original fashion products using traditional techniques in an unexpected way. Their unique foot sole structure compliments their motto – "Don't walk, fly!" I own some fly shoes and can honestly say that walking is easier in these. Fly London is more than a brand – it's a lifestyle. They make flats, wedges, heels, boots, and great sandals. Get to know Fly London, you'll love the brand.


'Wanda Panda', made in Spain, advertises that their shoes and sandals are made for 'real life'. Wanda Panda is the footwear choice for women with no demands on what to wear, made for women who want total comfort. Their styles are very trendy and some of the prettiest sandals I've ever come across.


'Fantasy Sandals' come from Greece, with the motto: "Happy Sandals for Happy Feet". P. Alysandratos founded this company in 1974 with the main focus on the soles. They only use the finest vegetable tanned leathers and color variations that adjust for comfort. Their sandals represent the modern women who want to be stylish and comfortable at the same time. The leather anatomic insoles absorb sweat and support feet properly. They are flexible, durable, and lightweight, giving natural gripping motion of your feet, stimulating leg muscles as you walk.

'Mephisto' was founded by Martin Michaeli in France in 1965 after he had spent some time in the U.S. His goal was to create the best shoe in the world, spearheading his company with the moccasin approach. Distribution then started in Germany, Austria, Belgium, and Switzerland, spreading rapidly throughout Europe. It reached the American market in California first, then made its debut in Canada in 1989, with a strong orientation towards nature, comfort, and quality. By 1998 Mephisto was sold in 150 countries. The company has approximately 2800 employees.

The secret to their success is that they use innovative soft-air technology in the soles, which relieves the joints, the vertebrae, and the spine. You will experience a super-soft, tireless walk for hours, still feeling fit and full of energy in Mephisto footwear.

In 2004 Mephisto was awarded "Best Footwear Brand of France" for the third time. The company is still owned and operated by the Michaeli family and in 2009 Martin Michaeli wrote his biography called "Where my shoes carried me".


Q. & A.

Q. I have always had issues with my tired feet and have had so much trouble finding sandals that will stay on my feet, won't dig in and also give me the support I need for walking. My problem is that I don't like clunky looking oxfords and am still looking for that pretty sandal that I can walk forever in.

A. Well, you're off to a good start – you found the right store. Did you know that 90% of women have some sort of foot problem? - YOU are not alone! We stock brands that give you many options, no matter what issues you may have. Some of our sandals have arch supports, bunion stretch capabilities, good walking soles, straps in the right places and Velcro straps for adjusting and re-adjusting… and much more. You will find the right, pretty sandals for your tired feet, and they will look fantastic.

Happy trails!
Karla