Joseph Ribkoff Has Raised the Bar!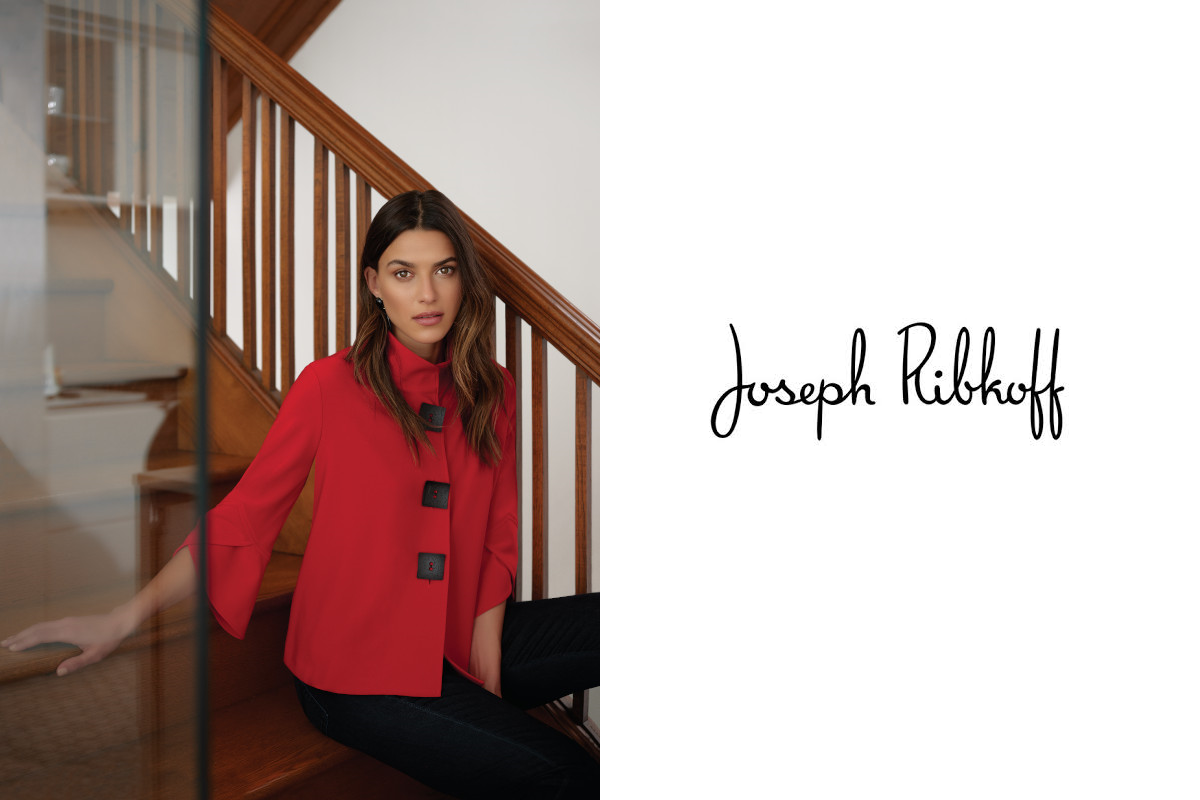 This top Canadian designer has streamlined runways throughout the world with new a new direction in fashion this fall. These new designs have the timeless effect of making a statement, creating confidence and when your man sees you in it, all he'll be able to say is "Wow!"

Ladies, some of our fall fashions are here for you to have a sneak peek and there's more to come.

Here is Martha, one of our regular models checking out the new Joseph Ribkoff red jacket, with striking black buttons, which would go perfectly with what she's wearing today. These also come in black.


Have a look at his array of other jackets in ivory, brown suede and a black and white check – very sophisticated!


Now this is a different JR style, ivory jacket with in-sewn black knitted sleeves for added warmth.


Christmas is coming sooner than you think and we already have some gold and silver gemmed sparkle tops in. The silver can be matched with a sparkle stripe down the side of black dress pants, just perfect for the dressy, casual cocktails parties you might be attending. Keep in mind that most Christmas functions are held well before Christmas Day. It's best to get these treasurers early because they move quickly.


Just had to show you this impressive little calf-length dress in gold and black. You'll have this piece in your wardrobe for a very long time. Perfect to wear to the office and any daytime events. Top it with a black jacket or cover-up and you're good to go.


Joseph Ribkoff has a softer, more casual side to him as well. He also produces beautiful purses giving our outfit that extra pop and classy eye-catching jeans.
Here is Sylvie, after another successful shopping trip at Close to You. She loves the JR jean jacket she just bought (with the distinctive red flowers) to go with her Joseph Ribkoff jeans.


An Invitation

We invite you to our Joseph Ribkoff Trunk and Fashion Show to see much more of what's in store for us this fall from JR. It will be held on Thursday, October 10th, from 4:00 to 8:00 p.m. Bring a friend and join us for wine and appies. The fashion show will start at 6:00 p.m. Just give us a call at 250-248-3781 to let us know you're coming.

Q. & A.

I never know what to wear to some of these Christmas functions and worry about being over-dressed or too casual. Can you tell me what would work best?

Now-a-days, you really can't go wrong, almost anything will be appropriate. If you are very conservative, black pants and a special top always works. Why not step out of the box and try a jumpsuit? They are still very hot this season. You can choose from casual to classy (whatever your style) and you will be comfortable and fit right in. Get ready for some compliments!
Hope to see you October 10th,
Karla





Posted on September 30 2019