"Young or Old, SAXX is Pure Gold!"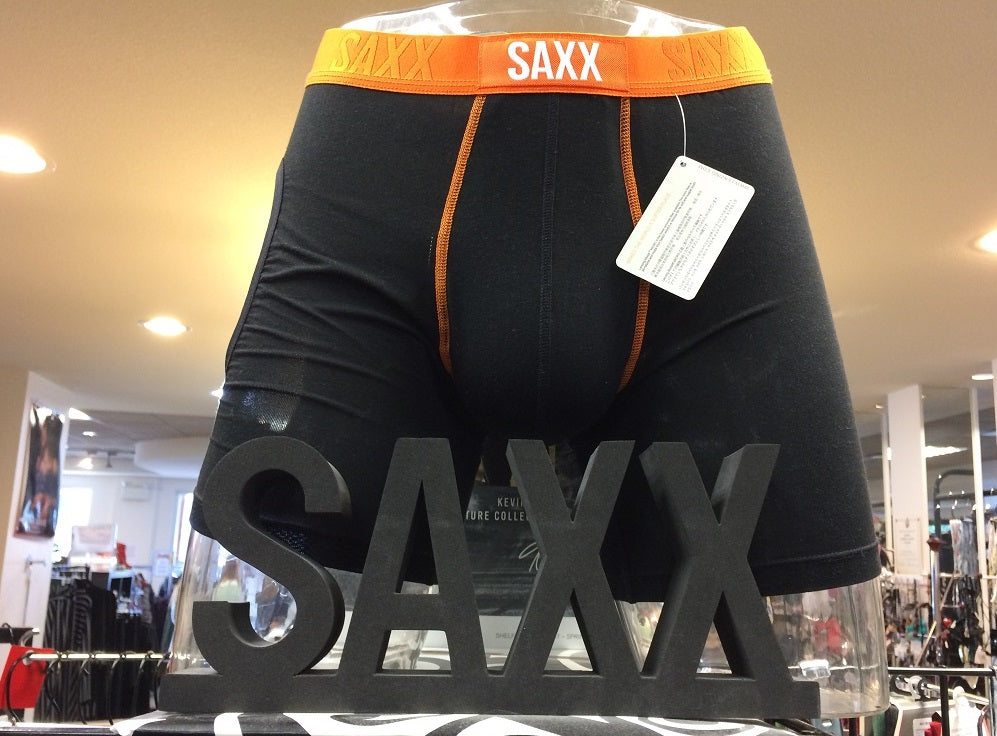 Ladies – spoil your man! Is he having a birthday coming up soon? -  Or, pick up a pair of SAXX Underwear for him, just because… when you're doing your shopping at Close to You. Also, a great idea for Christmas giving to all the men in your family. Even my grandsons wear SAXX. See, we do have something special for men in our store. 
SAXX for men is the best made and I'm going to tell you why. This underwear has a semi-compression fit liner with non-chafing flat-out seams. The 'ballpark pouch' has a quick drying micro-mesh. With its wicking action, its an anti-odor hammock design keeping everything in place. This underwear is extremely flexible, stretchable and comfortable.
Besides all the technical aspects, there is an array of fun designs to choose from, pleasing many different interests. Some have sports themes such as hockey, football, basketball, fishing and golf, to mention a few. I had one customer tell me he was an avid curler saying, "for this sport, you need SAXX.
SAXX is Loved by the younger man…
Adored by the mature man…
SAXX underwear comes in boxers, slim fit, short or longer leg. They also provide long underwear, T-shirts and swim trunks. What more can I say? SAXX speaks for itself!
SAMUEL DONG deserves special recognition!
Samuel Dong is an exciting 'over-the-top' Canadian designer creating the most extraordinary effects in fashion. You will be noticed wearing one of his creations, walking into any room!
Donna is wearing this Samuel Dong gorgeous pink bell-sleeved jacket which is "oh, so soft to the touch". She's standing next to a Nuage faux-fur coat in Sapphire Blue. These two garments would pair well for that special Christmas event you might be attending.
Annie loves Samuel Dong, too! Here she's wearing a Samuel Dong black and white newsprint tunic. Notice her favourite shoes by MINX, a combination of red, black and navy. These shoes would go with almost any outfit.
Annie is showing the back of this tunic at our last staff meeting for all of us to see.
 Samuel Dong's fashionable coats can serve a double purpose – they can also be worn as a dress. Interesting concept!
Yes, it's coat season now…
Mary is modeling another Nuage coat in a leopard print with black faux-fur trim and a large cozy hood.
Surprise – this coat is reversible and becomes the coat of your dreams for evening wear in a full 'cruel free' faux-fur.
Q. & A.
Q. Why are the jackets getting shorter when the latest tops are still quite long? I just don't feel it looks right if the top shows below the jacket length.
A. Fashions change a little each season, but trends stay in style much longer. It's totally in to have your top show below the jacket. This gives your entire look an elegant flow whether you're wearing casual or dressy. Just don't worry about it.
Catherine, one of our loyal customers, attended the recent Joseph Ribkoff Fashion Show and was proud to show us how she put her Joseph Ribkoff outfit together. Now this is a totally trendy fashion woman.
Life's too short to not be in style… love living in new fashions!
Karla
Posted on October 15 2019